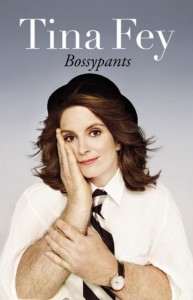 Bossypants by Tina Fey was released on Tuesday, April 5th, and I started and finished it on that very day.  Enough said.
Granted, I'm a big fan of Tina Fey and her critically-acclaimed show 30 Rock, and I've been anxiously awaiting this book.  It's part memoir, part humorous essay collection, and part how-to guide on being a woman in show business.  And it's hilarious.  She talks about everything from the more unpleasant jobs she had over the years to finding acceptance in a summer theater group to what it was like to meet Sarah Palin after publicly (and frequently) making fun of her on Saturday Night Live.  There are one-liners and hilarious anecdote in such abundance that you'll be embarrassed to read the book in public because you'll be laughing so much.  She also talks about some serious things, like being slashed in the face by a stranger when she was five years old (the source of the trademark scar on her cheek) and how hard it is to balance being a mother and a very busy woman in the workforce, but she still manages to keep it lighthearted.  What I really enjoyed about the book was how clearly her comedic voice came through.  This isn't one of those books "written" by a celebrity (aka written by a ghostwriter with the celebrity's name thrown into the byline); Fey's sharp wit comes through in every sentence so that you can practically hear her reading it as though she were reciting lines she wrote on 30 Rock.
I tried really hard to pick out a favorite excerpt to share here, just to give you a taste of what the book is like.  But every time I tried I just kept typing and typing and pretty soon it was going to border on copyright infringement.  So I'll just tell you that Bossypants is hilarious and if you like humorous memoirs or are a fan of 30 Rock, then you should check it out.