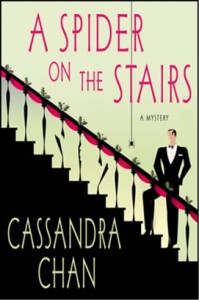 A Spider on the Stairs is a "contemporary reimagining of the classic English mystery."  It is refreshingly old-fashioned in its absence of gore and forensic razzle-dazzle.
This is part of a series featuring Scotland Yard Sergeant Jack Gibbons and his best friend, Phillip Bethancourt. Bethancourt is an upper-class dilettante who tags along with Gibbons while he investigates first one, then several murders around the beautiful, yet tourist-clogged town of York. Chan does a marvelous job of evoking the cozy atmosphere of the bookshop, York's warren of streets and the countryside during a particularly rainy spell.
Phillip's social connections  provide Jack with  insider knowledge that help to solve the case. Because he doesn't have to work and has no real family obligations, Bethancourt can devote whatever time and energy he has left over- after  socializing late into the evening and romancing women.
The book begins with a murder in Mittlesdon, a charming old bookshop. There is a feeling of calm, unhurried serenity  as the bodies stack up – even the bad guys remain polite and civilized.