Do you want help explaining the world to your children?  We have a resource that can help with that!  While TumbleBooks is primarily a source that can help your children learn to read, it includes books that explore a number of different topics.  For instance, science.
Do your kids know that Mauna Loa is currently erupting?  Introduce the idea of volcanology to beginning readers with the online picture book A Trip To The Top Of The Volcano With Mouse, by Frank Viva.  In this story book you'll meet an adventurous human who explorers Mount Etna with his companion, a mouse, who just wants to be done so he can eat pizza.  As the pages turn, you are able to hear the story being read while seeing the words highlighted on the page.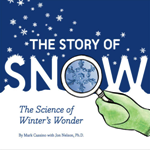 More advanced readers can build both their reading skills and knowledge when TumbleBooks explains subjects in more detail.  For example, The Story Of Snow, by Mark Cassino (with Jon Nelson, Ph.D.) explains how snowflakes form.  Read along as each sentence is highlighted and take time to look at the illustrations that show how snow crystals develop.
Or read Faces Of the Moon, by Bob Crelin, which explains why the moon changes shape each night and introduces the concepts of waxing and waning.
TumbleBooks can grow with your child.  It contains both non-fiction and fiction titles that can be read to your pre-kindergarten child, your elementary beginning reader, and more advanced books that your child can read alone.  Sports books, poetry, all the way up to chapter books can be enjoyed in this robust resource.  All you need is your library card to being your adventure!