These cookbooks are so excellent, you may want to make a permanent place on your bookshelf for them – I know I've checked each one out from DPL several times. The library can be a real lifesaver for thrifty cooks like me!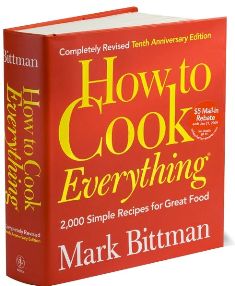 How to Cook Everything by Mark Bittman: Drop everything and try the recipe for "Jim Lahey's No-Work Bread" on page 833. It will blow. your. mind.
The Good Housekeeping Cookbook: Nothing but the best, most versatile, most standard, most essential recipes. I have checked this book out at least 5 times, and I'm always finding something new to try. I've gotten tons of compliments on their recipe for roasted red potatoes!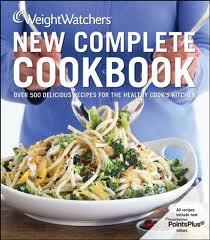 Weight Watchers New Complete Cookbook: Although I've never joined Weight Watchers, I've always loved their cookbooks. All the recipes are flavorful despite being light, and the included nutrition facts are helpful for any weight loss goals. Recipes in this newest WW book run the gamut from the easy (Turkey Chowder: ten ingredients and 5 hours in your crock pot) to the hard (Tandoori Lamb with Almond-Apricot Couscous: unfamiliar ingredients with a big flavor payoff). Bonus: includes a large and very yummy vegetarian section.
The Sneaky Chef: how to cheat on your man (in the kitchen): Cooking healthy food for picky eaters is tough, whether they're your kids or your spouse! This book is full of ingenious ways to hide healthy ingredients in hearty, familiar foods that anyone would love. Want to learn how to sneak cauliflower, zucchini, white beans, or yogurt into your mashed potatoes to cut down on fat and boost nutrients? How about adding spinach, broccoli, cauliflower, peas, and zucchini to chili for a hearty and decadent meal with a serious nutritive punch? Awesome.