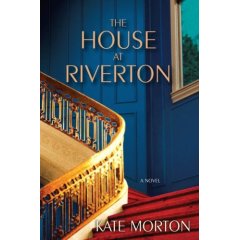 Set in England the years surround World War I, The House at Riverton by Kate Morton follows the decline and fall of a once-proud English family. Devastated by the ravages of the war, torn apart by secrets, disgraced by a very public scandal, the family unravels against a backdrop of war and the Roaring Twenties.
David, Hannah and Emmeline grow up in an idyllic, privileged atmosphere at the beginning of the century. When Grace Reeves begins service as a housemaid at Riverton, she becomes witness and confidant to the siblings and keeper of their secrets. Told in flashback many years later, an elderly Grace relives the tragedy that changed them all forever.
Part Upstairs Downstairs, part Brideshead Revisted and even a little Sense and Sensibility, The House at Riverton will keep you guessing with it's twists and turns until its shocking end.