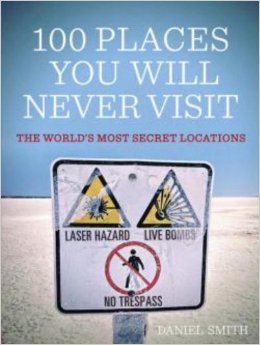 Psst, hey there, would you like to see something cool? Down by the arboretum in Dubuque, if you hike to the very back, climb over the old barbed wire fence and head west (watch your step for sink holes) you'll find what remains of an old park, destroyed 100 years ago by a flash flood that killed five people. Here's the old limestone bandstand and pavilion, and, if you look hard enough, the decaying remains of the roller-coaster. Be careful, though, since no one is sure if anyone's allowed here.
Intrigued? So was I, way back when my curiosity easily overruled my common sense. It led me and my friends to the old Union Park, abandoned houses and zinc mines, caves and the subterranean network of cisterns and cellars underneath my neighborhood (don't tell my mom, though.) It's the same curiosity that drives the book "100 Places You Will Never Visit: The World's Most Secret Locations," by Daniel Smith. The places photographed and described in Smith's book tend to fall more into the "you'll never visit because it's illegal/top-secret/destroyed/radioactive" and not "you'll never visit because you've never heard of it" category, but the locations described are interesting, especially if you're a fan of government conspiracies.
The book is heavy on speculation when describing places such as The Skunk Works, Mount Weather and – of course – Area 51. Smith also takes a turn at the politics of some off-limits areas, like Bohemian Grove (a California camp where the world's most powerful meet, away from the public eye), the Guantanamo Bay Detention Center or the Great Pacific Garbage Patch.
The more interesting places described are those not located in North America (or, at least, are outside of the U.S.'s collective imagination) like La Basse Cour ("The Farmyard") in Belgium, the unidentified structures in China's Gobi Desert or the temple vaults of Sree Padmanabhaswamy in India. Again, most of these places are known, just off-limits to the public. But, the photographs, maps, and illustrations give the reader enough to at least pique curiosity.
If you looking for more lost cities and urban exploration, check out "Hidden Cities: Travels to the Secret Corners of the World's Great Metropolises" by Moses Gates or "Explore Everything: Place-Hacking the City" by Bradley Garrett. Or, if abandoned places are more your style, try the TV series "Life After People," "Abandoned America" by  Matthew Christopher or my personal favorite "The World Without Us" by Alan Weisman.