Imagine….. A donor brings historic documents, written in French, to the Richardson-Sloane Special Collections Center at the Davenport Public Library that were passed down through the family. Having no sentimental ties to the brittle, fragile papers, they bring them to Special Collections.
The surname on the papers, dated 1861 – 1866, is recognized by Special Collections staff members as one that has been investigated by a fellow Davenport Library employee! With great anticipation, the colleague is called to the Archives to view the documents. Amazing! These are original French passports for the staffer's great-great grandparents!
The documents provide the previously unknown maiden name of great-great grandmother as well as details about her chestnut eyebrows, green eyes, and the dimple on her chin. The colleague is delighted and so are we!
Special Collections is grateful to those who take the time to bring primary source items such as these to us. Every attempt is made to properly preserve documents pertinent to the local area, making these items accessible to researchers and scholars.
The odds are pretty good that you will find something to help you in your search for family or local history here at the Richardson-Sloane Special Collections Center. Primary source documentation like these precious papers are accessible to everyone, and we welcome your inquiries. Many finding aids are posted on our website and many more are in progress.
Just imagine yourself saying, "I found it in the archives" at RSSC!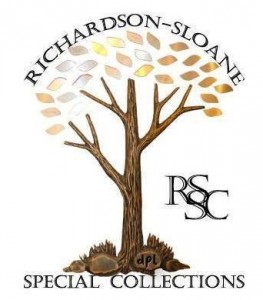 (posted by Karen)