New to the Special Collections Center's Iowa vital records microfilm cabinet is Lee County.  Thirty-five rolls of births, delayed births, deaths, marriages and even a few naturalizations are ready for use the next time you come in. Lee County is the only one of Iowa's 99 counties with two county seats, so that may account for all those records! To learn more about their unique system you can follow this link.
Another helpful resource that is accessible from our six internet workstations in SC or your home computer is the Iowa Digital Maps Collection of the University of Iowa. There are Sanborn maps, plat maps, and atlases for many Iowa counties. Searchers now have integrated access to the 9,000+ map items in the Iowa Digital Library.  The site features enhanced functionality that allows browsing by a number of specific criteria, including place names and map formats. Be sure to spend some time there. It is fascinating.
One more resource that we depend on daily in Special Collections is our collection of City Directories. Sometimes we find images of buildings or houses or even dates when businesses began as in the example below from the 1912 Davenport City Directory: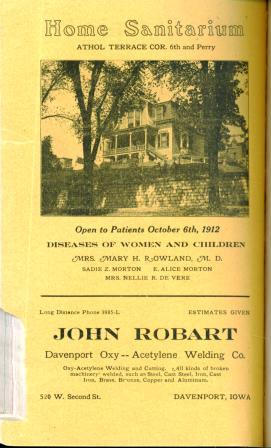 Other times, you just stumble across something that makes you giggle, like this ad from 1910: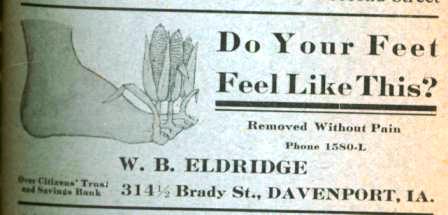 Either way-it's all in a day's work in the Richardson-Sloane Special Collections Center! Come in and see what you can find!
(submitted by Karen)