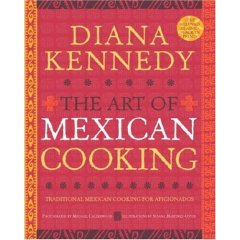 Mexican cooking is more than tacos and salsa; it is in fact a rich, complex and varied cuisine with distinct regional differences. Originally published in 1989, The Art of Mexican Cooking by Diana Kennedy is back in print filled with not only recipes, but stories and information about the unique, delicious foods of Mexico.
This is a cookbook for aficionados; many of the recipes and techniques are advanced (making blood sausage or cleaning a squid), but there are many accessible dishes as well (such as Mexican masa ball soup) Emphasis is on authentic ingredients and produce, most of which are now readily available in American markets. One chapter is devoted just to chilies and another on the sauces and relishes of Mexican cuisine, as well as chapters on corn, pork, chicken and desserts among others.
Celebrate Cinco de Mayo with some real Mexican food!