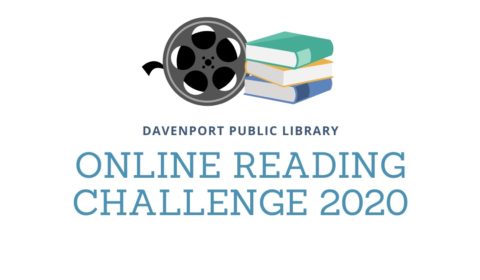 Join us for a year of gently guided reading ideas, where we read books that are related to a different topic each month. 2020 promises to be lots of fun – our theme is From Film to Book! 
You've probably heard the saying – "the book was better" when a film is made from a book. We're going to turn that saying sideways and read books inspired by a movie! That means the inspiration could be the setting, the time period or the subject. So, for instance, when we get to the "You've Got Mail" month, the book you choose could be about New York City or bookstores or modern romance. For the "Field of Dreams" month we'll look for books about baseball or Iowa or fathers and sons. Some of the movies are award-winners, some new, some older, but all of them have been popular and are embedded in American culture. You're probably familiar with the story lines of each whether you've actually seen the movie or not.
Like previous years, the Online Reading Challenge is very low-pressure with an emphasis on discovering books and authors you may not have tried yet. You can participate every month, or only the months that interest you. Remember – there are no Library Police that will come knocking on your door if you fail to finish a book each month! Read for fun, for discovery, to learn something new, to experience times that no longer exist.
What you read each month is entirely up to you. You can read a book or ebook, listen to an audio book or watch a movie. It can be fiction or non-fiction, old or new. Find something that sparks your interest and enjoy! To help get you started I'll be posting suggestions on the blog, once at the beginning of the month with the introduction of that month's movie and again sometime mid-month with more suggestions. We'll also have displays at each building with appropriate books and movies. And, as always, we invite you to share what you've read – everyone loves recommendations!
Bookmarks will be available at each library location with the list of the films we're going to explore each month. There's even room on the bookmark to keep track of what you read!
Here's the lineup for 2020:
January – "Casablanca"
February – "Gone with the Wind"
March – "Silence of the Lambs"
April – "Downton Abbey"
May – "Casino Royale"
June – "12 Angry Men"
July – "Field of Dreams"
August – "Butch Cassidy and the Sundance Kid"
September – "You've Got Mail"
October – "The Godfather"
November – "Back to the Future"
December – "The Maltese Falcon"