So I'm sure you have all seen the news already: Mr. Justin Bieber has been cast as Finnick, the charming, arrogant and misunderstood playboy from District 4. (Click HERE for Official News Release info)
Wow. All I can say is WOW.
Although… I'm not feeling as shocked and surprised as I expected to upon hearing the news. Bieber totally has the swagger, the charm, and the energy to handle Finnick's character. The only possible downside will be if Bieber is unable to downplay his babyface to play a 24-year veteran Victor who has experienced 10 years of Capitol manipulation. Although, the Hunger Games casting agents have not been that concerned with actors' ages in earlier casting, and all that truly matters is that Finnick appears older and more seasoned than Katniss.
Here is the rest of the big Catching Fire casting announcements from yesterday:
The wonderful Mags will by played by the wonderful Julie Andrews.

Brainy Beetee will be played by Brainy Adam Savage from Mythbusters.

And infamous Wiress will be played by the infamous Snooki (not too shabby for a girl's first big movie role).
But the most surprising of all:
The clever and vicious Johanna Mason will be played by Saturday Night Lives's feisty Target Lady!
Kinda weird, right? I was totally rooting for Selena Gomez or Kristin Bell…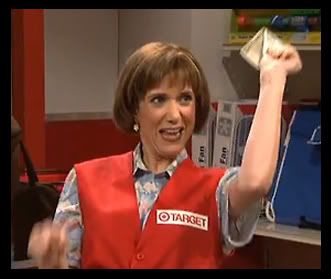 Tags: Catching Fire, hunger games, Justin Bieber