What better thing to do on a windy day than fly a kite?   It may be the perfect way to get back outside after a long winter.  Not alot of physical stress, you can stay out as long or short a time as you like.  The colors are absolutely vivid — especially on a clear day with a bright blue sky and the grass finally turning some sort of shade of green.   Convinced – at least to give it a try?  Cool.
So – the first thing you need is a kite.  There are some pretty nice ones out there. Try Major Art & Hobby Shop in downtown Davenport.  They've got some stunt kites and a few box kites — they run anywhere between $20. and $45.   Want to just try it out before you throw down the cash?  How about just piecing together your own and seeing how it feels.
A kite is basically made up of three parts — the sail, the spars and the line.  You can make the sail out of paper, plastic (like a garbage bag?), Styrofoam, nylon, or other sorts of fabrics.  The spars can be bamboo, plastic or wood.  But think light.   And the line can be about any sort of string – although serious kite flyers spend alot of time figuring out exactly what they want or need.  Just think about strong – and not stretchy.   So with those three parts and a way to put them all together you are set to go.  (Tape?  Glue?  Want to try and sew it together?  whatever)  Great way to express yourself and get to play with your art.
Want some more ideas – or some inspiration to get you started?  Yep — you guessed right!!  Here are a few books in our collection: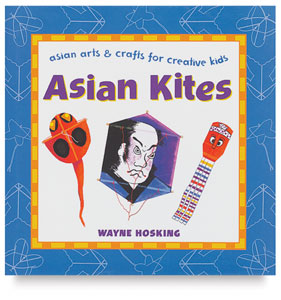 so – go — what are you waiting for -
– angie
Tags: kite, major art & hobby shop, stunt kites