Sgt. Major Alvis Marshal Taylor, one of only two Quad-City area survivors of the Japanese attack on Pearl Harbor in December 1941, passed away last week on Monday, January 16, 2017.
Alvis Taylor was born on March 18, 1923 in Caldwell, Burleson County, Texas to William Marshal Taylor and Martha Elizabeth Harper. Below is his birth certificate: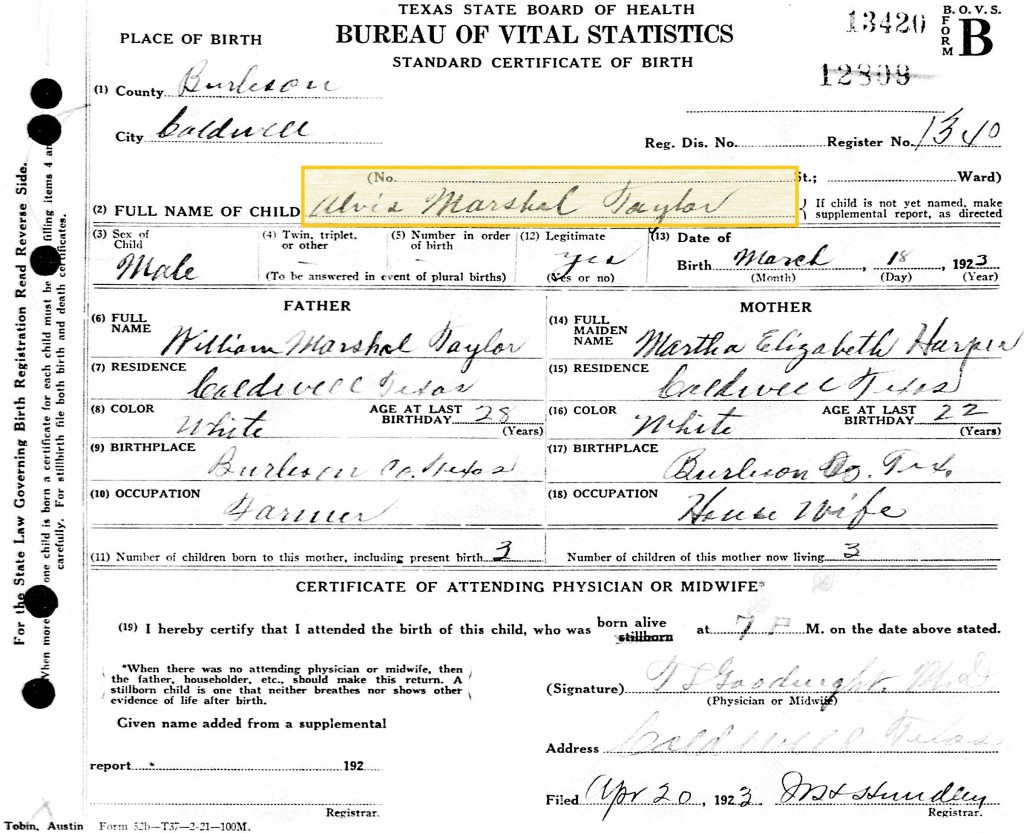 The 1930 Census shows Alvis M (age 7) living in Burleson County, Texas with his parents and siblings: William (age 35), Martha E. (age 29), Willie E. (age 12), Ester M. (age 9), and Milton (age 1).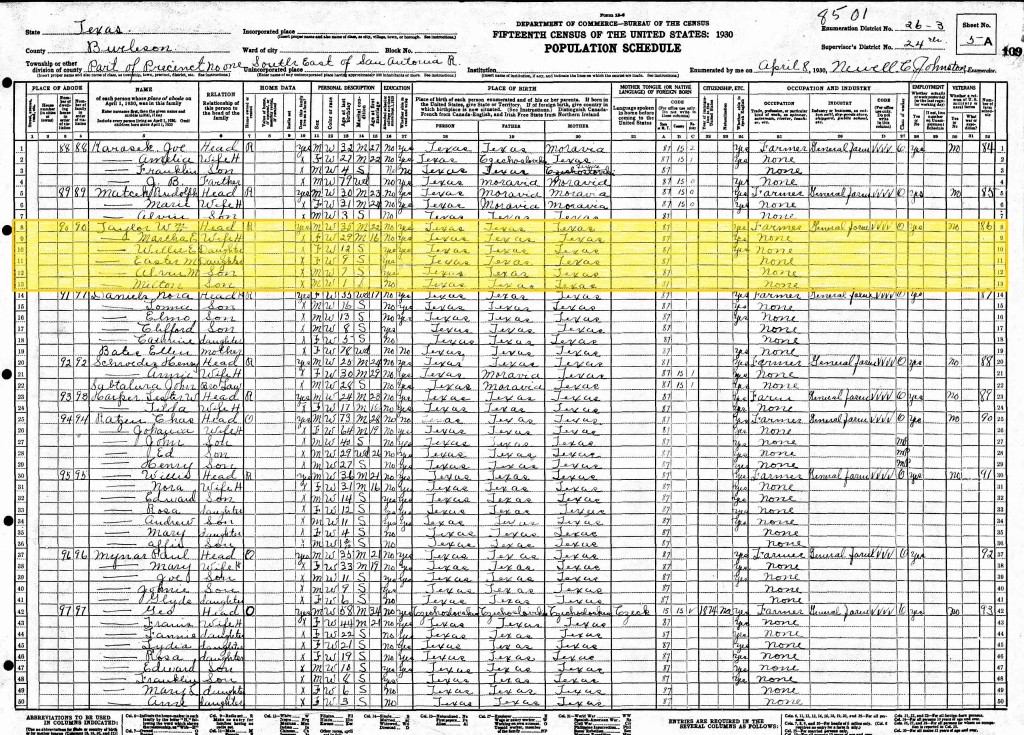 Alvis enlisted in the U.S. Army at age 16. In the 1940 Census, we see young Alvis M. (age 19) stationed with the 11th Medical Regiment at Schofield Barracks in Oahu, Honolulu, Hawaii.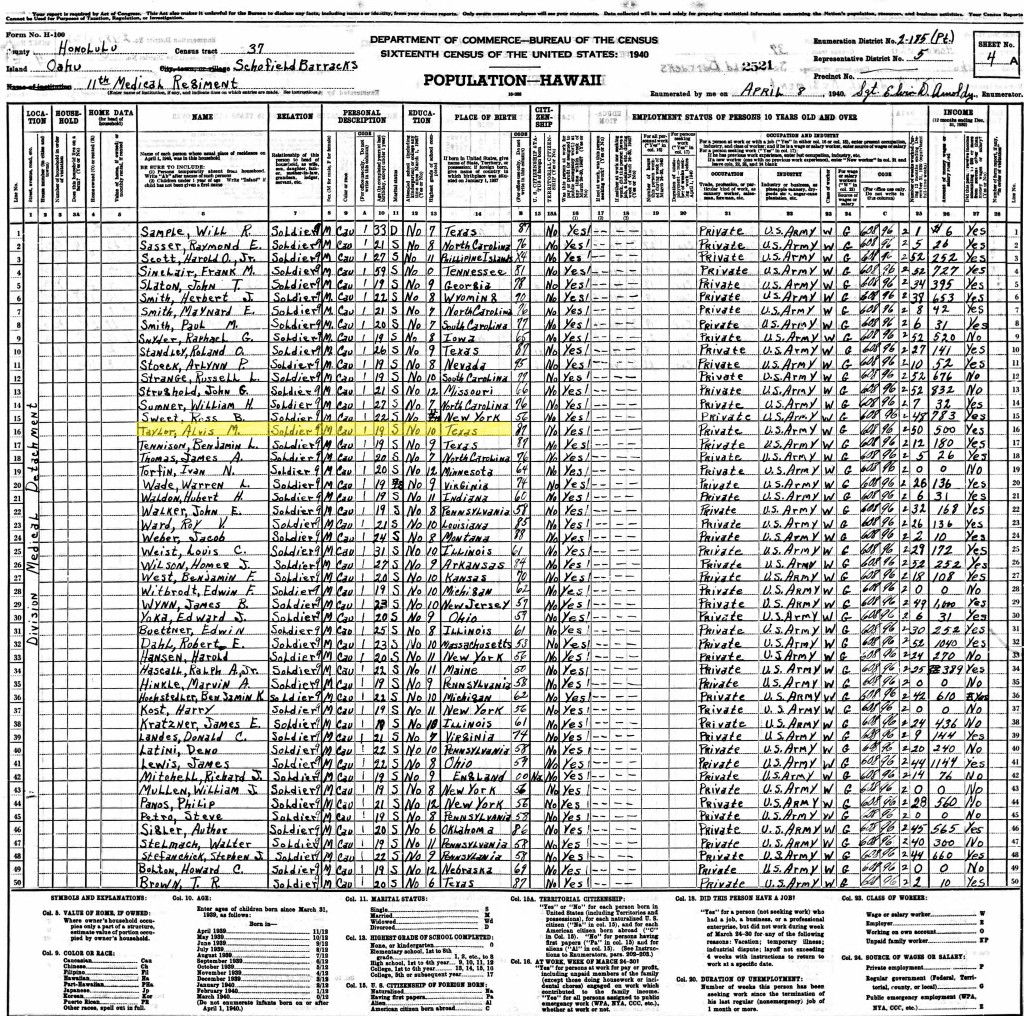 At 11:55am on Sunday, December 7, 1941, Taylor was working alone at the Barracks Hospital when he witnessed Japanese planes circling in figure 8 formations, attacking U.S. Naval ships anchored at Pearl Harbor. The planes were flying so low he could see the Japanese pilots inside. Two rounds of bombs and torpedoes sunk 4 U.S. battleships, damaged 4 others, killed 2,402 and injured almost 1,200 American sailors and Marines. 90 percent of the people there were on shore leave.
The first sergeant and other senior NCOs were married and living elsewhere on post, so on his colonel's order, Taylor took over. He called in doctors and coordinated dozens of ambulances to take the wounded to hospitals. At one point, he was sent to Pearl Harbor with 32 of his 67 ambulances. He was told to pick up the patients on ships and in the water.
Taylor was subjected to enemy fire when he accompanied the ambulances, but he managed to escape without injury. Thankfully, none of his ambulance drivers were killed.
After the tragedy, Taylor, who earned the Legion of Merit for meritorious conduct in the performance of outstanding services and achievements, returned to Schofield Barracks and to his regular duties. Later, he was sent to the Transportation Corps OCS, then continued his military career at various locations, including the Rock Island Arsenal.
First Sgt. Alvis M. Taylor married Mary Emma Garrett on December 20, 1942 in Austin, Texas. Their first son was born in Japan, where Sgt. Taylor was stationed. Mary passed away on December 18, 2005 in Coal Valley, Illinois. She is buried in the Rock Island National Cemetery.
Taylor kept his Pearl Harbor story to himself, not talking about his experience until many years later.
"You can see the pictures, but you can't smell it and taste it. My dad can still smell that smell and taste that taste 73 years later. He remembers every minute of that day – from when he woke until he passed out from exhaustion," said Taylor's son Brian in a 2014 interview.
Alvis Taylor retired from the U.S. Army in 1959 as a major after 20 years of service; he retired from the U.S. Army Armament Command in 1980 after 20 additional years of civil service.
He received a Quilt of Valor in 2015, an experience he found "overwhelming."
"This quilt is given to you, to wrap around you to give you comfort and warmth and know that you were prayed for, supported and given a heartfelt thank you."
And a heartfelt thank you from us to you, Alvis Taylor, for your service.