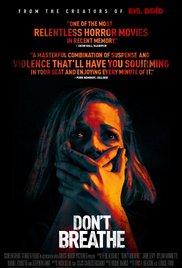 Intense. If I only had one word to describe the movie Don't Breathe, I would use the word intense.
This movie takes place in poverty ravaged Detroit, Michigan. The opening scene is three young people robbing a house.  Rocky (Jane Levy), her boyfriend, Money (Daniel Zovatto) and Alex (Dylan Minnette) break into homes owned by rich people in order to steal things to sell on the black market.  Money goes to sell their stash and is upset that they do not get a lot of money for their haul. The buyer suggests that they rob a house that has cash in it. He suggests a house to Money that he heard about in the news.  A man was offered a large settlement after his daughter was killed in a car accident.  Also, the man is blind and lives in an empty neighborhood. It should be an easy target.
It is hard to dislike Rocky, Money, and Alex, even though they rob houses. It is clear that they live in an area of Detroit that is completely impoverished. Rocky dreams of moving to California with her younger sister. We see Rocky at home with an abusive, alcoholic mother and her boyfriend. Clearly, Rocky wants to escape her life in Detroit and she wants to give her sister a better life.  Money and Alex both love Rocky and they want to help her out. Money plans to move to California. Alex is not sure if he wants to leave his Dad behind. We learn that that trio has been breaking into houses using the keys from a security company that Alex's father owns.  It is clear that Alex feels guilty about what he is doing but his love for Rocky pushes him to continue with what he is doing.
The trio decide to check out the home of the old blind man and they find that the neighborhood is empty. While they are on recon, they see that the blind man (Stephen Lang) owns a Rottweiler so they prepare a tranquilizer for the dog. Everyone assumes that this will be an easy robbery, even if the blind man is at home. Money sets off a gas to knock out the blind man while he is in bed. The trio believe that they have everything under control and soon they will be rich.
Except, everything goes wrong. The gas is ineffective and the blind man wakes up. He was in the military and is good with firearms and hand-to-hand combat.  His blindness does not stop him from being lethal. And now, they are trapped in the house. The entry ways are blocked off by the blind man. There are several locks on the front door that require keys. The blind man is not sure how many people are in the house. So the ones that are left have to be silent in order to survive. Even when violent, horrible things are happening in front of them.
A deadly game of cat and mouse, Don't Breathe will keep you on the edge of your seat.
Directed by Fede Alvarez. Produced by Sam Raimi, Rob Tapert, Joseph Drake, Nathan Kahane, and J.R. Young