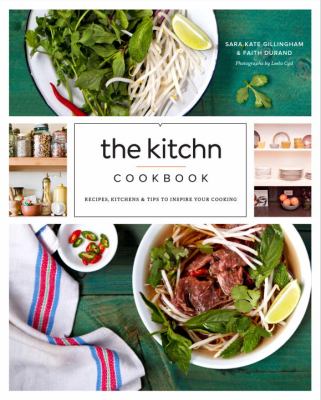 From Apartment Therapy's cooking site, The Kitchn, comes 150 recipes and a cooking school with 50 essential lessons, as well as a guide to organizing your kitchen–plus storage tips, tool reviews, inspiration from real kitchens, maintenance suggestions, 200 photographs, and much more.
 
The Kitchn Cookbook offers two books in one: a trove of techniques and recipes, plus a comprehensive guide to organizing your kitchen so that it's one of your favorite places to be.
For Cooking: – 50 essential how-to's, from preparing perfect grains to holding a chef's knife like a pro plus 150 all-new and classic recipes from The Kitchn, including Breakfast Tacos, Everyday Granola,  Slow Cooker Carnitas, One-Pot Coconut Chickpea Curry, and No-Bake Banana and Peanut Butter Caramel Icebox Cake.
For Your Kitchen – A shopping list of essentials for your cabinets and drawers (knives, appliances, cookware, and tableware), with insider advice on what's worth your money, solutions for common kitchen problems like limited storage space and quirky layouts, a 5-minute-a-day plan for a clean kitchen, tips for no-pressure gatherings, and a look inside the kitchens of ten home cooks around the country, and how they enjoy their spaces
The Kitchn Cookbook gives you the recipes, tools, and real-life inspiration to make cooking its own irresistible reward. (description from publisher)