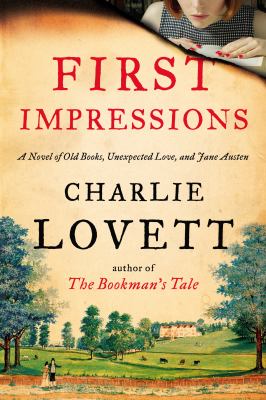 First Impressions by Charlie Lovett is subtitled "a novel of old books, unexpected love, and Jane Austen." It's a quick read, quickly alternating between the present day and 1796 when Jane Austen herself is in the midst of writing early drafts of Sense and Sensibility and Pride and Prejudice (or is she?) There's some doubt as to whether she or a good friend and fellow author mentored her or whether he actually wrote Pride and Prejudice.
Lovett does a good job of organically integrating historical information about Austen and her books. It doesn't feel like you're being fed lessons from high school English, but as if you are really beginning to know Jane and what motivated her to write the stories that she did.
In between chapters about Jane Austen are those that focus on Sophie Collingwood. Her family owns a large estate, as well as an important library of books that contain important clues to the first editions of Pride and Prejudice.  A recent graduate of Oxford and an expert in antiquarian books thanks to her uncle Bertram. Sophie becomes involved in literary intrigue, in which she and others try to untangle the early works of Austen, and those of her friend, Reverend Richard Mansfield.
Suspense builds as Sophie, some shadowy rivals, and two suitors try to solve the mystery. Lovett does a good job of laying the groundwork, so the ending is unexpected yet grounded in the information the reader has been given. For example, subsequent generations of the Mansfield's and Austen's publisher are revealed to be active participants in the contemporary mystery.