Featured new additions to DPL's Horror collection! Click on the title to place a hold. For more new books, visit our Upcoming Releases page. As always, if there's a title you would like to read, please send us a purchase suggestion.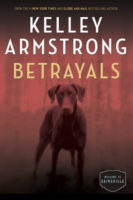 Betrayals by Kelley Armstrong – When Olivia's life exploded–after she found out she was not the adopted child of a privileged Chicago family but of a notorious pair of convicted serial killers–she found a refuge in the secluded but oddly welcoming town of Cainsville, Illinois. Working with Gabriel Walsh, a fiendishly successful criminal lawyer with links to the town, she discovered the truth about her parents' crimes in an investigation that also revealed the darker forces at work in the place that had offered her a haven. As if that wasn't enough, she also found out that she, Gabriel and her biker boyfriend Ricky were not caught in an ordinary sort of love triangle, but were hereditary actors in an ancient drama in which the elders of Cainsville and the mysterious Huntsmen who opposed them had a huge stake. Now someone is killing street kids in the city, and the police have tied Ricky to the crimes. Setting out with Gabriel's help to clear Ricky's name, Olivia once again finds her own life at risk. Soon the three are tangled in a web of betrayals that threatens their uneasy equilibrium and is pushing them toward a hard choice: either they fulfill their destinies by trusting each other and staying true to their real bonds, or they succumb to the extraordinary forces trying to win an eternal war by tearing them apart.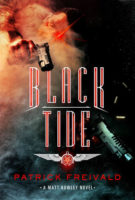 Black Tide by Patrick Freivald – To Matt Rowley, augmentation is something that he will have to learn to live with, for the rest of his life. As cults spring up in worship of the demonic beings freed by the last of the nephilim, the United States calls on Matt Rowley to meet the threat. His unnatural powers returning with every passing day, Matt becomes the only weapon able to withstand eldritch forces older than time and darker than the blackest sea. When his wife and infant son are taken in a violent attack on his hometown, Matt falls into a vast conspiracy that could destroy his family and his very soul. They want Matt Rowley's powers and will kill everyone to get them.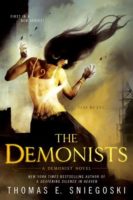 The Demonists by Thomas Sniegoski – There is more to our world than meets the eye–darker things, crueler things. Exorcist John Fogg and his wife, psychic medium Theodora Knight, know what lurks in the shadows. But even they're not prepared for the worst Hell has to offer… It was supposed to be a simple exorcism, a publicity stunt to firmly establish John and Theodora's thriving paranormal investigation empire in the public eye. But something went wrong, leading to an on-air massacre that unleashed a malicious host of demons and left Theodora catatonic, possessed by countless spirits. John sets out on a desperate quest to find a cure for his wife, but his obsession brings him face-to-face with an even more terrifying problem: Theodora's possession is only one piece of a deadly plot that is threatening the entire world. Because an ancient evil is about to make Earth its battlefield–and without John and Theodora's intervention, there is no chance for salvation.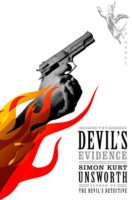 The Devil's Evidence by Simon Unsworth – The man with no memory of who he was or what led to his damnation is now in command of the Information Office of Hell. This power has only inspired new, deadly enemies like Mr. Tap, the cunning leader of a shadowy organization known as the Evidence. Fool alone has survived the wrath of both demon and angel, and now he faces his most thrilling and complex challenge. Troubling and deadly fires are spreading throughout Hell, and it is Fool's job to sift the ashes and find their source. The clues he finds are mysterious and unsettling, implying something different from the usual litany of cruelty he sees. But one fact is the most disconcerting: the fires have left his masters at the Bureaucracy terrified. In the midst of the chaos, Fool is sent to accompany a political delegation to Heaven. It is unprecedented for a condemned human to enter the land of the elevated, but Fool is protected as one of Hell's own. When his arrival coincides with the discovery of an impossible murder, he faces a catastrophic paradox. Violence, corruption, and fear are Hell's currency; how does one investigate evil where those concepts cannot exist? Impossible or not, the killings are real, and the evidence leads Fool deep into the contradictions of a visionary landscape, where danger can present itself in any form, and to the heart of a conspiracy with the power to upset the balance of Heaven and Hell.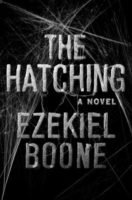 The Hatching Ezekiel Boone – Deep in the jungle of Peru, where so much remains unknown, a black, skittering mass devours an American tourist whole. Thousands of miles away, an FBI agent investigates a fatal plane crash in Minneapolis and makes a gruesome discovery. Unusual seismic patterns register in a Kanpur, India earthquake lab, confounding the scientists there. During the same week, the Chinese government "accidentally" drops a nuclear bomb in an isolated region of its own country. As these incidents begin to sweep the globe, a mysterious package from South America arrives at a Washington, D.C. laboratory. Something wants out. The world is on the brink of an apocalyptic disaster. An ancient species, long dormant, is now very much awake.