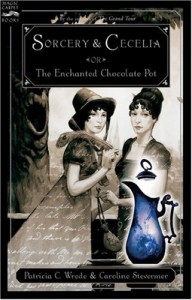 Patricia C. Wrede and Caroline Stevermer's co-authored epistolary novel has a very long title: Sorcery and Cecelia, or, The Enchanted Chocolate Pot: being the correspondence of two young ladies of quality regarding various magical scandals in London and the country. Please don't judge it by this wordy title or by its tragically hideous cover. It's great!
It's Regency England, magic is real, and cousins Cecelia (Cecy) and Kate correspond over the course of a summer, unraveling alone and together the mystery surrounding the titular enchanted chocolate pot and the "Mysterious Marquis." The action is very exciting, the letters brisk and forthcoming, the characters sympathetic, the romance delightful, the magic subtle and delectably menacing. It's a delight – the only complaint I can offer to temper my enthusiasm is that Cecy and Kate are virtually indistinguishable. I cannot recall a single difference between them, whether in temperament, opinion, age, physical appearance, or letter-writing style. The only difference between them is that Kate is in London and Cecy in the country; or did I switch that around? I'll have to look back at the letters to check.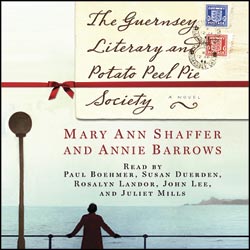 By sheer good luck, my reading of this novel overlapped with my listening to the also epistolary, also long-titled, also co-authored, and also excellent The Guernsey Literary and Potato Peel Pie Society by Mary Ann Shaffer and Annie Barrows. This was an enormous hit with book clubs a couple of years ago, but if you missed out on it then, treat your ears to this audiobook right away! It has become my standard audio fiction recommendation, even surpassing At Home and Twenties Girl. Juliet Ashton corresponds with and befriends the people of Guernsey, an island in the English Channel which was occupied for 5 years by the Germans during World War II. Each character's letters are read by a different voice actor, and the result is entirely winning. It's a lovely book read by lovely people, and it's about resilience and friendship and bravery and the love of books. I cannot recommend it highly enough.