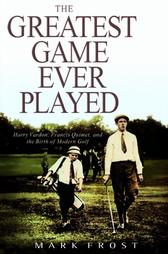 With Tiger Woods winning the 2008 U.S. Open and the John Deere Classic nearing, I was reminded of my favorite book and movie about golf, The Greatest Game Ever Played by Mark Frost. It is the story of the 1913 U.S. Open held at the Country Club in Brookline Massachusetts. Frost has interwoven the biographies of Harry Vardon and Francis Ouimet, slowly building to the dramatic finish. Born on the Channel Island of Jersey in 1870, Vardon had won five British Open titles by 1913. On this side of the Atlantic, 20-year-old Ouimet was the Massachusetts state amateur champion and had been a caddie at the Country Club; his invitation to the Open was unexpected. The long, wonderful second portion of the story dramatizes the exciting week in September when Vardon, Ouimet, and others battled for the coveted title. Frost paints a lively supporting cast. Ouimet's mother, brother, and sister were supportive, but his father had no truck with the silly game. Englishman Bernard Darwin, the scientist's grandson, found his niche as a first-generation golf journalist. Ted Ray, a big bear of a man, punched out a fellow English golfer before joining friend Varner and Ouimet in a three-man playoff. Ten-year-old caddie Eddie Lowery almost stole the show with his pugnacious confidence and sage advice for Francis. It is a wonderful book about the beginning of the sport of golf in the United States.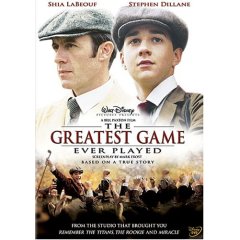 The book was published in 2002; in 2005 the movie of the same name was released. Starring Stephen Dillane and Shia Labeouf as Harry Verdon and Francis Ouimet were wonderful. The best minor character was Eddie Lowery played by Josh Flitter. The movie puts pictures to Mark Frost's words. It is a beautiful film.
Be sure to catch exciting professional golf action at our own golf tournament, the John Deere Classic, July 7-13. Because you never know when the next sports hero will emerge.