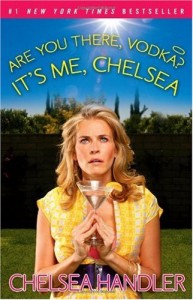 Did you stop by the library to pick up one of Chelsea Handler's hilarious books only to discover that they're all checked out?  While you're on the waiting list for a copy of Lies That Chelsea Handler Told Me, My Horizontal Life, Chelsea Chelsea Bang Bang, or Are You There Vodka? It's Me, Chelsea, check out some other books that you might enjoy:
Pretty In Plaid, My Fair Lazy, and Such a Pretty Fat by Jen Lancaster:  Humorous memoirs about the author's life with stories about dieting and food, sororities, lots of clothes, drinking, and reality TV.
You Can't Drink All Day If You Don't Start In The Morning by Celia Rivenbark:  A collection of humorous essays written by a brash Southern woman.  The title alone tells me that this book is something Chelsea Handler would approve of.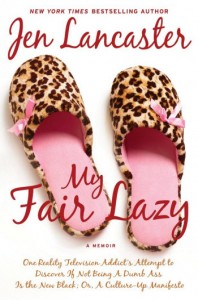 Official Book Club Selection by Kathy Griffin:  Stories of the comedienne's life  peppered with Kathy's trademark humor concerning all things celebrity.
The Bedwetter by Sarah Silverman:  The famously crude comedienne tells the story of her life, managing to bring her signature humor into even the most serious stories about depression and late-in-life bedwetting.
I Was Told There'd Be Cake by Sloane Crosley:  A collection of witty essays about a 20-something trying to make it in Manhattan.  I particularly enjoyed her evil boss stories and her explanation of her bizzare collection of plastic ponies.