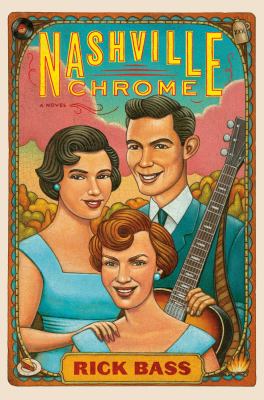 With my interest in country music and the classic groups, I found this book fascinating. It is the fictionalized story of the Browns, two sisters and their brother, who sound was called Nashville Chrome. At the height of their fame, this singing trio was second only to Elvis, and even the Beatles shared a few jam sessions with their idols. Have you ever heard of the Browns? I hadn't.
The focus of Nashville Chrome is Maxine, the eldest sibling, and the novel goes back and forth in time sweeping over her childhood in Poplar Creek, the tough years on the road singing and recording, to a decrepit old age living on social security when a trip to Piggly Wiggly represents a major expedition. Maxine is the driving force behind the trio–the one who takes their singing career so much more seriously, but perhaps that's because for her, the stakes are so much higher.
Bass's style underscores the mythic qualities of the tale, for while the Browns' story is true, at times it almost seems too fantastic to be anything less than fiction. Fate repeatedly seems to intervene in lives marked by the highs and lows of incredibly bad luck and amazing strokes of good fortune.