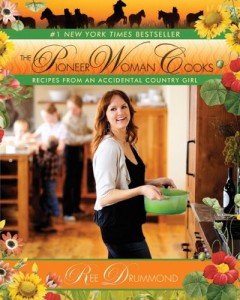 The Pioneer Woman Cooks is an unique combination of cookbook and sociological essay. Ree Drummond got sidetracked on her journey from L.A. to Chicago, when she stopped in Oklahoma and met the cowboy who was to become her husband.
The photographs of horses, dogs, cowboys and rainbow straddled fields are sometimes cute and  funny, sometimes striking and romantic. They alone make you want to pack your bags and move to a ranch out West.
The recipes are clear and simple, and each step is accompanied by a photograph. They are not definitely not for someone looking for low-fat or low-cholesterol meals. However, if you go to her blog, http://thepioneerwoman.com, you'll find a "Cowgirl Food" category with dishes like lettuce wraps and sundried tomato pasta salad. Drummond actually got her start as a blogger, and both the book and blog are breezy, personal and easy to digest.